Advanced Child Protection Update (Interagency)
Date & Time:
Thursday 5 January 2023
(09:00 - 16:30)
Notify me of future occurrences of this event
Venue:
- ONLINE - Teams/Zoom,
Detail: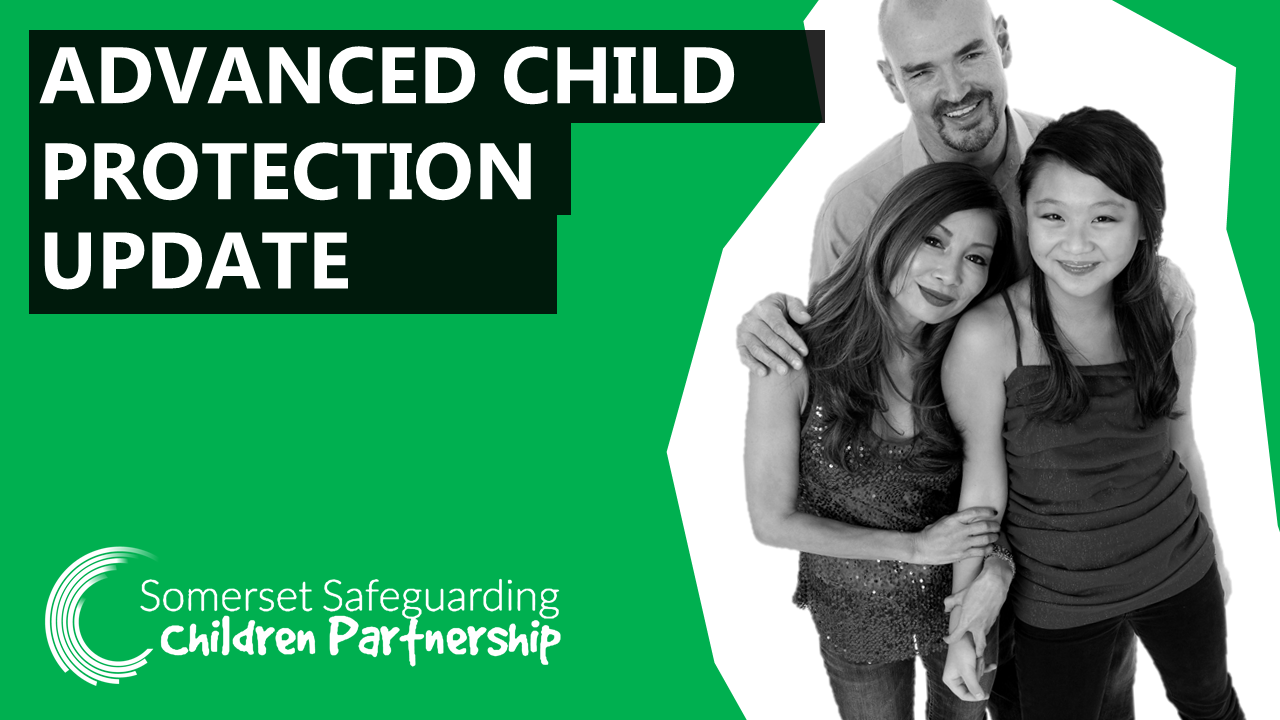 Cost: £85.00 per person
Courses running as of 1st April 2022 - £90.00 per person
To qualify to attend this training you must have completed either the 2 Day Advanced Child Protection or Advanced Child Protection Update Training within the last 2 years.
If in doubt please contact SSCPTraining@somerset.gov.uk prior to booking.
This is a one-day course that is designed to meet the requirements of those practitioners who have previous experience in a safeguarding role and whose agency is not subject to improvement actions as a result of inspection.
The course is also suitable for health professionals working towards your level 3, those who have completed the Advanced Child Protection (Inter-Agency) within the last 2yrs and Registered Childminders who have completed the Introduction to Child Protection course in the last 2yrs and replaces the previous standalone "Child Protection for the Designated Lead Role for the Childminder" training.
 This course serves as the Update course required every 2 years for all people who hold a lead designated role.      
Aims
This course will provide an opportunity for participants who have already received Level 2 child protection training to improve their understanding and knowledge of their own and other's responsibilities.
It will be an opportunity to explore with colleagues from other organisations the challenges and benefits that exist in working in a multi-agency system and to promote and improve inter-agency best practice.
Learning Outcomes
By the end of this course participants will:
have an understanding of principles and processes for effective collaborative inter-agency work
communicate and develop inter-agency working relationships to promote and safeguard the welfare of children and young people
understand the contribution made by other key agencies to safeguard children
understand legal and organisational frameworks, including levels of accountability of decision making
have explored the balance between vulnerability and resilience for children and families in need
have an understanding of their own professional responsibility in relation to child protection.
Places Available:
32
| Restriction | Available | Applicable to you |
| --- | --- | --- |
| Somerset: Police | 2 | |
| Somerset: Education | 20 | |
| Somerset: Health | 2 | |
| BaNEs | 0 | |
| North Somerset | 0 | |
| S. Gloucestershire | 0 | |
| Somerset: CSC | 7 | |
| Bristol | 0 | |
| Somerset: Local Authority: Public Health Nursing | No Limit | |
Further Information:
Type:
Statutory Safeguarding Training
Enquiries:
SSCPTraining@somerset.gov.uk
Trainer:
Steve Macabee
Venue Details:
- ONLINE - Teams/Zoom,