Basic Awareness Child Protection (Single Agency) Cascade Training Pack - Early Years & Primary 2021-22
Date & Time:
Wednesday 31 August 2022
( - )
Notify me of future occurrences of this event
Venue:
- DOWNLOADABLE RESOURCES & e-LEARNING,
Detail: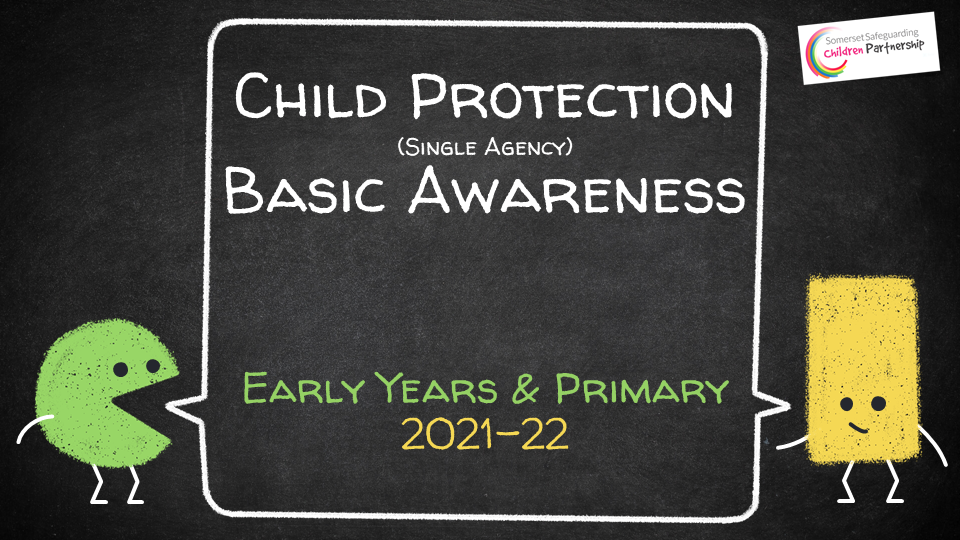 Cost: £60.00
The Annual Basic Awareness Child Protection (Single Agency) Cascade Training Pack is designed to help schools adhere to statutory guidance and provide all teaching staff with foundation knowledge of identifying the forms and signs of abuse and how to report this within the school, as well as provide annual safeguarding updates from learning and changes to legislation and guidance.
The pack is designed to provide safeguarding leads with the presentation, comprehensive facilitation notes and resources and links to deliver the training to their teams and is designed to run within the academic year (Sept 2021 - July 2022) 
Please see below for further details and follow the booking link to purchase and download the pack. 
Cascade Pack Overview
This Basic Awareness workshop is intended as single agency training and does NOT equate to any of the Inter-agency training agreed between all Safeguarding Partnerships across the Avon & Somerset region.
(For details see the SSCP Training Strategy – available on the SSCP website).
To be accredited by Somerset SSCP, this 3.5-4hour basic awareness cascade training pack should be delivered in its entirety. The timings provided on the session plan are for guidance only.
It is the policy of the SSCP that only people who have completed both 'Introduction to Child Protection' and 'Advanced Child Protection (Interagency) training' (previously known as Working Together to Safeguard Children) within the last 2yrs, are deemed to be suitably skilled, trained and knowledgeable in the field of child protection in Somerset to use this pack to train others.
If you have not completed this required training within the last 2yrs, you should not be using this pack and are doing so against the advice of the Somerset Safeguarding Children Partnership.
The pack provides the information and resources that you will need to train people within your organisation in basic child protection issues. It will offer participants information about the different types of abuse that children can experience and what to do if you believe that a child is at risk or is being abused.
We update this training material regularly to align with Government Policies/guidance and hope that you will find the information accessible and helpful.
Please note the SSCP Cascade Packs should not be used for financial gain, amended in any way or sold or distributed without the express permission of the SSCP Training Manager.
Within the pack you will find
Basic Awareness Cascade Pack (in Powerpoint Show)
Presentation Facilitators Notes
DSL Info & Resource Pack
Certificate template for participants
Online Quiz Questions (these should be accessed online during the workshop, but have been included here in case of any difficulties accessing or if there are internet issues on the day of delivery – see below for details)
Places Available:
0
Booking:
More Information & Booking

- 12856
Further Information:
Type:
Cascade Pack
Enquiries:
SSCPTraining@somerset.gov.uk
Trainer:
Somerset Safeguarding Children Partnership
Venue Details:
- DOWNLOADABLE RESOURCES & e-LEARNING,