Overcoming Barriers to Engaging with Families
Date & Time:
Thursday 9 June 2022
(09:00 - 16:30)
Notify me of future occurrences of this event
Venue:
Yeovil - Fiveways School, Fiveways School Victoria Road Yeovil Somerset Ba21 5AZ
Detail: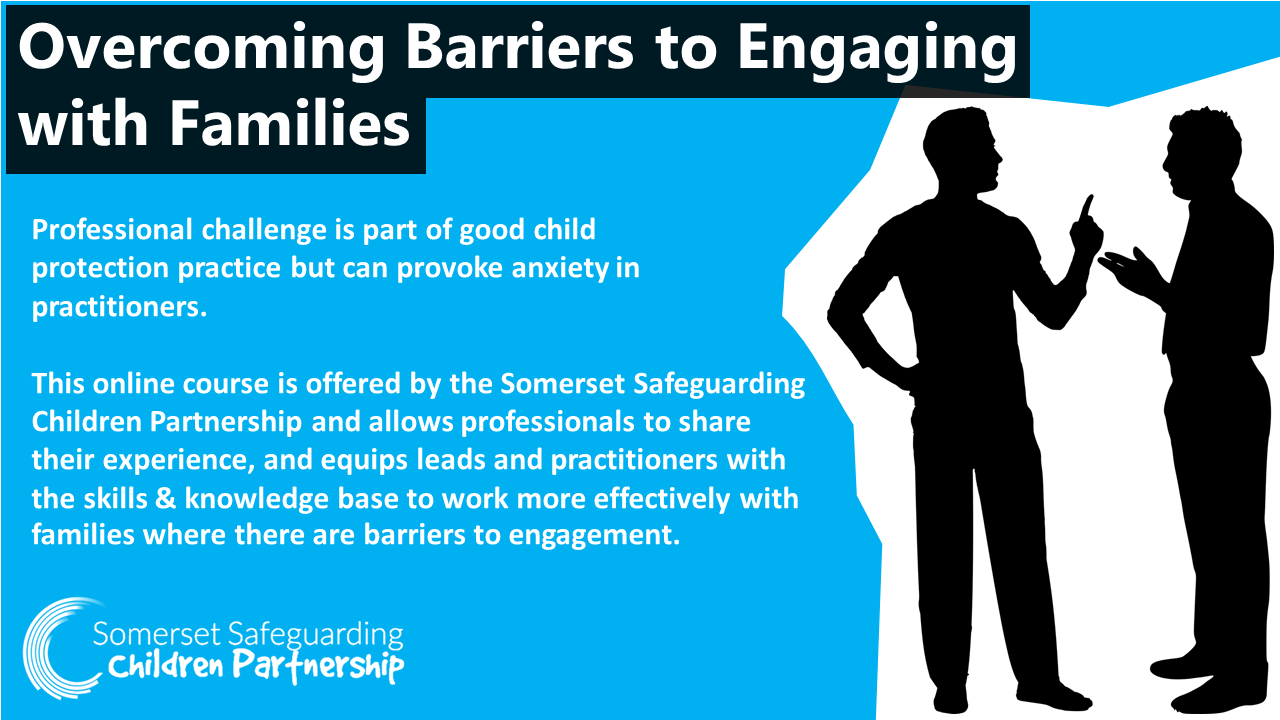 Open discussion with parents and carers when there are welfare concerns about a child often 
provokes anxiety in practitioners. Professional challenge is part of good child protection 
practice.
This course aims to equip leads and practitioners with the skills and knowledge base to 
work more effectively with families where there are barriers to engagement.
Price: £15.00

Aims
• To increase practitioners'confidence in having difficult conversations. 
• To understand some of the barriers to effective communication between 
professionals 
• To increase the confidence and ability of practitioners to challenge one another. 
• To equip attendees with the skills to cascade this training inhouse

Learning Outcomes
By the end of the course participant will:
• have analysed the impact on themselves and others of difficult conversations 
• have demonstrated increased their confidence in talking to parents and carers 
about welfare concerns about children 
• have demonstrated increased knowledge and skills to support them in 
professional challenge in an inter-agency context
• Have demonstrated increased knowledge and skills in gaining informed consent 
from resistant families
• Have demonstrated increased their confidence in supporting staff in having 
'courageous conversations
Places Available:
25
| Restriction | Available | Applicable to you |
| --- | --- | --- |
| Police | No Limit | |
| Education | No Limit | |
| Health | No Limit | |
| BaNEs | 0 | |
| North Somerset | 0 | |
| S. Gloucestershire | 0 | |
| CSC | No Limit | |
| Bristol | 0 | |
| Local Authority: Public Health Nursing | No Limit | |
Further Information:
Type:
Virtual
Enquiries:
SSCPTraining@somerset.gov.uk
Trainer:
Steve Macabee
Venue Details:
Yeovil - Fiveways School, Fiveways School Victoria Road Yeovil Somerset Ba21 5AZ
(01935476227)
 Email: officespts@educ.somerset.gov.uk